Image:   Robert Salmon [Public domain], via Wikimedia Commons
 
The second interesting discovery via the Hull Maritime Museum was sparked by their display of the history of whaling. Although the whalers departing from Hull headed mainly for the Arctic Waters, there was some mention of the south sea fisheries, and I was pointed towards a most useful resource: the British Southern Whale Fishery (BSWF) Database.
Run by the University of Hull, the online database supplies details of actual voyages, and the people involved in the BSWF between 1775 and 1859.
The British southern whale fishery, commenced in 1775 and its trade was almost exclusively carried out from London. Initially it focused primarily in the mid to south Atlantic; by the mid-1790s it had moved to the Pacific and Indian Oceans and was limited to the areas off the coasts of Africa, South America and the east coast of Australia, but by 1815 the trade had spread to the wider Pacific.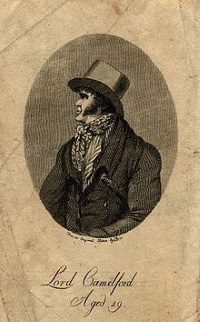 The trade was often referred to as the South Seas Whale Fishery, and it was some unfortunate project related to this with Thomas Pitt, Baron Camelford II, (the Half-Mad Lord) which was at the root of Nicholson's financial problems in later life.
Camelford's project involved an investment in two whaling ships, believed to be called the Experiment and the Wilding which were secured by a 'reputable merchant' called Mr Rogers.
The Wilding is listed on the database; it sailed in 1803 and returned in 1805 under the command of John Borlinder.
Unfortunately, there are a number of vessels called the Experiment, but none of these sailed in the southern seas around 1804, the year in which Camelford was shot in a duel and died.
If you can contribute any information on the Experiment or the Wilding, Mr Rogers or John Borlinder, or their connection with homas Pitt, Baron Camelford II, please get it touch: info@nicholsonsjournal.com.
#7