In December 1780 in the Chapter Coffee House near St Paul's Cathedral, several men led by the Irish chemist Richard Kirwan decided to meet fortnightly to discuss 'Natural Philosophy, in its most extensive signification'.
The membership of the group grew steadily, and meetings took place in a variety of locations including the Baptist's Head Coffee House. William Nicholson joined in 1783 and was elected joint secretary with William Babington in 1784.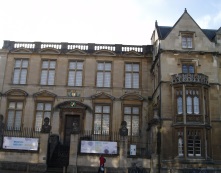 Nicholson's copy of the minutes of the society, until 1787 when it folded, are in Oxford's Museum of the History of Science and it was wonderful to be able to inspect them recently.
Compared to other philosophical societies of that time, especially the Lunar Society which had been meeting in the Midlands since 1765, this group seems little known – partly because it never had any name.
In 1785 it was agreed that the group would have no formal name when Kirwan 'affirmed that the society not being desirous of that kind of distinction which arises from name or title were so far from giving any sanction or authority to the names used by their secretaries that the original determination in this respect was that the society should not have a name.
Fortunately the minutes do include a most interesting list of 35 members (the total number of members over the life of the society was 55).
Mr Alex Aubert (1730-1805), Austin Friars, 26
MrWilliam Babbington(1756-1833)
MrAndrewBlackhall (?-?), Thavies Inn, Holborn
DrWilliamCleghorn(1754-1783), Haymarket, 11
DrJohnCooke(1756-1838)
DrAdairCrawford(1748-1795), Lambs Conduit Street, 48.
MrJean-Hyacinthde Magellan(1722-1790), Nevilles Court, 12
MajorValentineGardiner(1775-1803)
DrWilliamHamilton(1758-1807)
MrJamesHorsfall(-d1785), Inner Temple.
DrJohnHunter(c1754-1809), Leicester Square
DrCharlesHutton(1737-1823)
MrWilliamJones(1746-1794), Inner Temple
DrWilliamKeir(1752-1783), Adelphi
MrRichardKirwan(1735-1812), Newman Street, 11
DrWilliamLister(1756-1830)
MrPatrickMiller(1731-1815), Sackville Street, 17
MrEdwardNairne(1726-1806), Cornhill, 20
MrWilliam Nicholson(1753-1815)
DrGeorgePearson(1751-1828)
DrThomasPercival(1740-1804)
DrCharles William Quin(1755-1818), Harmarket, 11
DrJohnSims(1749-1831), Paternoster Row, 11
MrBenjaminVaughan(1751-1835), Mincing lane
MrAdamWalker(c1731-1821), George Street, Hannover Square
DrWilliam CharlesWells(1757-1817), Salisbury Court
MrJohnWhitehurst(1713-1788), Bolt Court, 4
DrJohnWatkinson(1742-1783), Crutched Friars, 22
Honorary members
DrMatthewBoulton(1728-1809), Birmingham
MrRichardBright(1754-1840), Bristol
MrJamesKeir(1735-1820), Birmingham
DrRichardPrice(1723-1791), Newington Green
Rev'd DrJosephPriestley(1733-1804), Birmingham
MrJamesWatt(1736-1819), Birmingham
MrJosiahWedgwood(1730-1795), Etruria
Further information
The entire set of minutes, as well as descriptions of all the members of the society, are set out in Discussing Chemistry and Steam: The Minutes of a Coffee House Philosophical Society 1780-1787, by Trevor H. Levere and Gerard L'E Turner.
Available from Oxford University Press
#5