William Nicholson (1753-1815) is best known to Enlightenment historians as the founder of A Journal of Natural Philosophy, Chemistry and the Arts – the first commercial monthly scientific journal in Britain. Taking a wide variety of articles from all levels of society, Nicholsons Journal, democratised access to technological developments, encouraged debate and accelerated the spread of scientific know-how. However, it was a thorn in the side of the Royal Society's Philosophical Transactions, and Sir Joseph Banks is reported to have blocked Nicholson's membership to the Royal Society on the basis that he wanted 'no journalists' or 'sailor boys' – the latter a reference to Nicholson's early career with the East India Company and a contretemps at the short-lived Society for the Improvement of Naval Architecture.
Despite this, they enjoyed a cordial relationship over at least 20 years. Nicholson was first engaged by Banks to help produce the paper Observations on a Bill, for Explaining, Amending, and Reducing into One Act, the several laws now in being for preventing the Exportation of Live Sheep, Wool, and other Commodities, 1787.
Shortly after this, Banks accepted the first of three papers from Nicholson for the Royal Society – one on a proposed design for a compact scale rule to replace the cumbersome Gunther's rule; one in 1788 regarding Nicholson's invention of the revolving doubler (a device to generate electricity) and a third paper on electricity was read in 1789.
In 1799, Nicholson moved to Number 10 Soho Square where he established a scientific school and hosted a series of scientific lectures. He was a regular participant at Banks's Sunday Conversazione and the Thursday breakfast held in the Banks library.
In 1802, a disagreement arose when Nicholson wrote to Banks asking permission to republish papers from the Royal Society, as was happening in foreign journals – he argued that it was unfair that 'journalists within the Realm should be put in a less favoured situation than foreign philosophers'.
Working relations resumed, and in 1806, on behalf of the Board of Longitude, Banks invited Nicholson to comment on designs of the timekeepers constructed by John Arnold and Thomas Earnshaw hoping to reveal the secrets of their designs to the wider watch-making community and thereby stimulate similar developments.
Between 1800 and 1812, 14 articles by Banks were published in Nicholson's Journal – so in the end, even Sir Joseph recognized the benefits of speedier dissemination of scientific information.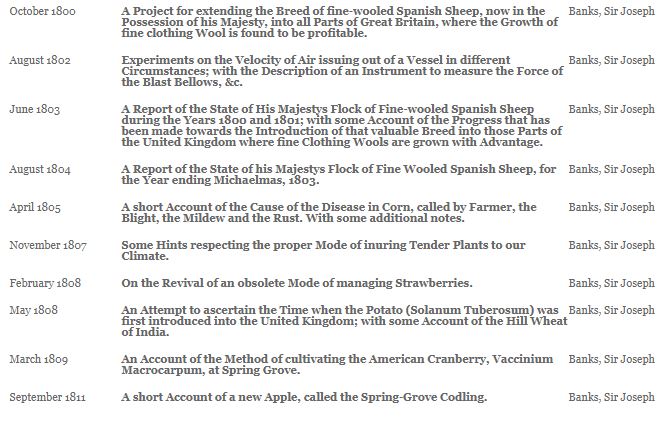 These articles can ve accessed via:  http://www.nicholsonsjournal.co.uk/nicholsons-journal-index.html